The T-Pull Door Closer Helps You
Close Doors Easily
The T-Pull Door Closer is a great device for people in wheelchairs as well as anyone using crutches. Cast aside those awkward moments, physical strain and loss of dignity! With the Door Closer, closing doors becomes a simple task. That means one less thing to deal with in a day-to-day world that puts up countless barriers. It's also a lot better looking that a rope hanging off the edge - a low-profile solution that makes life better in numerous ways.

Ergonomically Designed
Built with comfort & functionality in mind, the Door Closer is simple to use and solves a big problem!
Durable Materials
Holds up well in cold, heat, humidity and more - all with sturdy materials built to last under a variety of conditions & uses.

Tucks Away When Not in Use
Unlike other homemade solutions, the Door Closer is aesthetically pleasing, tucking away for low profile.
Easy to Install
No screws, drills or other hardware necessary - just peel off the back and adhere to the door!
T-Pull

Black Aluminum
(Retractable Handle)
T-Pull

Silver Aluminum
(Retractable Handle)
"I chaffed a bit at spending $50 for a small handle that I figure I could fashion myself. But I'm glad now that I didn't spend time and money on a homemade contraption. This has nice low profile. Works perfectly to solve a problem. Money well spent.

The manufacturer says the adhesive alone will be strong enough. He also provides some mounting screws. I had a minor problem with an unusual size and type of screw, and the seller patiently resolved the problem. I feel better about having the extra screw attachment as I am good at breaking things. The adhesive should be fine, adding the screws is no biggy."
"I ordered 2 T-Pulls - they arrived very quickly. These devices come preloaded with adhesive so installation was a snap (measure, level, mark, stick and you're done!) - the instructions are simple and there are pictures for correct placement. Right after installation we had a cold front move in for a week with snow and rain and the weather had no impact on the adhesive. These are low profile and much better looking than the "rope around the door knob" method that so many folks in wheelchairs have to use to close a door. I would highly recommend these to anyone who needs to accomodate door closure from a wheelchair."
I'm a physio that works with clients with mobility issues. The T-Pull is a simple device that enables wheelchair bound clients to easily close doors. It can also be used with people that use walkers or crutches to close doors.
Fantastic device to assist someone in a wheelchair close the door behind them. I highly recommend this device.
These handles are handmade and well crafted. The directions are clear and easy to understand. The material is durable and the unit mounts easily and firmly
This is so simple yet amazing! Installed for construction client who needed the door close issue solved in a simple and unobtrusive manner. Great product, simple to install and use immediately
Amazon reviewed - United States - July 2021 I have needed this for years and did not know it existed. Found and use it everyday. A great tool for people who are handicapped. SO EASY TO INSTALL, ONLY NEED A SCREW DRIVER. 67 YEAR OLD DID IT EFFORTLESSLY. It has a sticky substance to adhere and help in putting screws in.
See How the T-Pull Door Closer
Helps Make People's Lives Better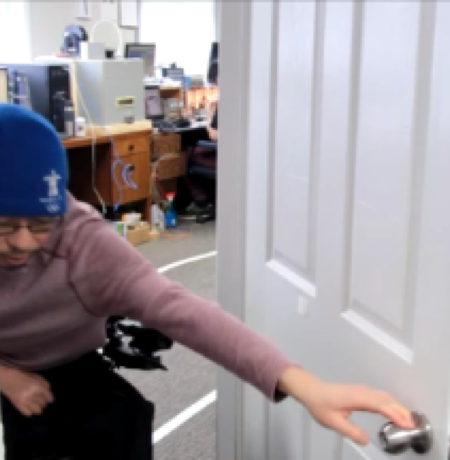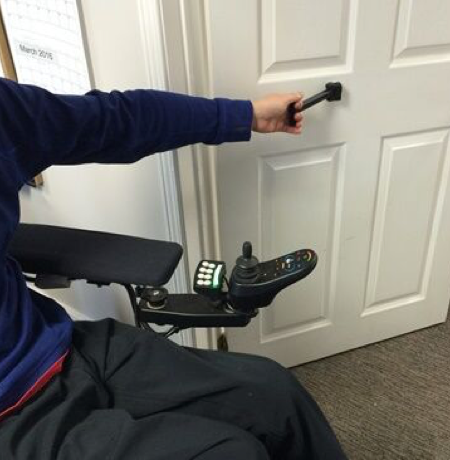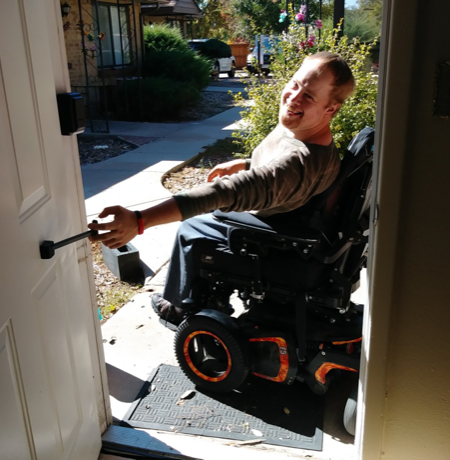 Frequently Asked
Questions
Our customers have questions, we have answers. Below are the most frequently asked questions, so everybody benefits.